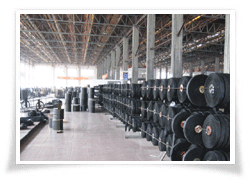 Elastop Rubber & Plastic Co., Ltd is one of the leading Manufacturer and Exporter of various rubber products in China, belongs to CAZ Group Corporation, now she owns six professional factories to manufacture a widely range of rubber products, including Rubber sheet, Rubber floor, Rubber belt, Conveyor Belt, Rubber hose, Rubber O-ring, Rotary shaft seals and various rubber parts.

This company has been found and confirmed according to ISO9001 and AZ.

With more than 15 years professional experience, CAZ elastop will offer you swift computerized quotation, ample finished goods inventory, and efficient customer service.

Elastop tenet: Based on People, Innovation Promoted

Elastop goal: Best quality for same price, Best price for same quality


Our main products as follows:
Rubber Sheet:

NR sheet, SBR sheet, NBR sheet, CR sheet, EPDM sheet, Viton sheet, Silicone Sheet, and many special rubber sheets

Rubber Floor:

Anti-slip rubber sheet, Livestock rubber mat, Rubber tile, waterproof rubber roll etc.

Rubber Belt :
Rubber V-belt, Synchronous belt, Rubber Conveyor belt etc.

Rubber Hose:
Fiber braided rubber hose, Cloth braided rubber hose, Wire braided rubber hose, and various PVE hose

Rubber Seal:

Rubber O-ring, Rotary shaft seals, Rubber Gasket, Rubber rope, Rubber strip and so on

Rubber Parts:

Various rubber parts, Rubber foam etc.